Good Designs: Applying for Settled Status in the UK
Thanks to sincere investment in great design, the UK has managed to transform what could have been a complicated process into a breeze.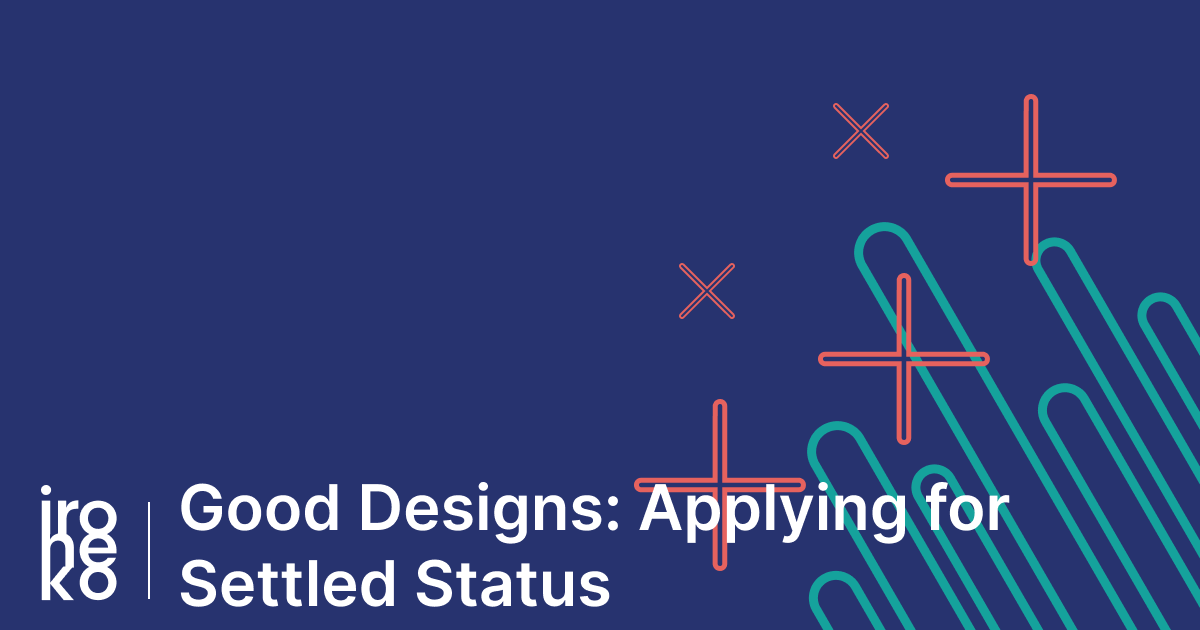 If my name hasn't already made it obvious, I'm not from the UK. Specifically, I come from Ferrara, a small-ish city in northern Italy. With Brexit approaching (apparently), I had to make sure I actually had the right to stay and work in the UK.
I put off this very important task for a long period, expecting it to be a bureaucratic nightmare. And considering the state of most UK applications, you can't blame me! But I was in for a pleasant surprise.
The UK has actually made it fairly straightforward for people like me to request their right to stay and work. As an EU citizen living in the UK, you have two options:
Apply for pre-settled status - valid if you have resided in the UK for less than 5 years
Apply for settled status - valid if you have resided in the UK for at least 5 years
Having moved here in 2014, I managed to just make the cut for Settled Status. However, having dealt with applying to the Italian government for a change of residence a couple of years back, I was dreading the tedious process that would await me.
I still run into people who argue that paperless applications are complicating bureaucracy. In this case at least, this couldn't be further from the truth.
Using technology to simplify bureaucracy
One thing is very clear when starting an application for Settled Status: no expense was spared in streamlining the process as much as possible.
Verifying your identity
Normally, verifying your identity for official purposes would involve a process like this:
Take an updated photo of yourself in a photo booth
Make physical copies of your ID
Set up an appointment with the correct government agency
Physically go to an office to complete the verification process
It's slow and it's antiquated. But it works - so there's no real reason to invest funds to update it.
However, Brexit presents the UK with the unique problem of having to verify millions of people in the shortest time possible. And if this process were done manually, it would take years to complete.
The "ID Document Check" app
The UK realised that thanks to advancements in facial recognition tech and the high quality cameras that come with every smartphone, this identification process could be automated and simplified.
Enter the "Eu Exit: ID Document Check" app. Rather than going through a rigorously complex process that would require you to schedule meetings, print documents and waste lengthy amounts of time, the app allows you to take a picture of your face from different angles, scan your main document and send it to the government for verification.
Thanks to this free app, my identity was verified in just twenty minutes.
Uploading your documents
Once your identity is verified, all that's left to do is actually apply. At this point I entirely expected to have to interact with a real person... But my surprises were far from over.
After sending some basic information through a quick form on the gov.uk website, I was directed to submit files proving my whereabouts for the past 5 years.
Having been a student here, I had plenty of leases to use as proof. Again, if this process had been done manually, it would have been a nightmare. On the lower end, I'd estimate that printing all my leases would involve printing just over 200 pieces of paper.
That was not the case. I was simply asked to upload my documents, leave a short description and select the time span they covered.
Once this was finished, I got an email informing me that I would receive an update about my application in the next week.
Receiving a response
Even after submitting my application, I remained quite sceptical of the process. Surely that couldn't have been all I had to do. It was just too simple.
Once more I was proven wrong when I received an email informing me that my application had passed and that I could easily access it and download it from the gov.uk website. I was an officially settled resident of the United Kingdom.
I realise that all of this sounds quite banal, but it's possibly one of the best designed interactions I have ever gone through.
The UK Government and Design
The genius of this application process might not come as a surprise if you're aware of the push the UK has made in recent years to embrace modern design ideologies.
In 2016, the UK decided to entirely overhaul and unify the design of 30 government agencies. From this, thanks to designers such as Elliot Hill, a unified Design System that could be reused and easily expanded, was born.
This puts the UK in the very small list of governments that focus on creating design systems to enhance usability and accessibility of their websites.
Why this is important
It's still amazing to me that I received permission to live and work in a foreign country without speaking to a single person. The words 'fully automated' may be music to a designer's ears, yes, but they also help everyone.
If this process had been done manually, it would have put strain not only on the people processing the applications, but on those having to take time out of their work and family lives to stress over printing documents, making appointments and filling out tedious forms.
Good design exists to make our lives easier. Even if it's just a short interaction on a program, the quicker and easier it is, the better it is. So for life-changing applications, good design is paramount.
So I'm delighted to see the UK setting an example with regards to embracing this. Automated services, when well thought-out, can make us wonder how we ever did all this on paper at all.