Achieving Your Big, Hairy, Audacious Goal — a talk with Edel Harris
Edel Harris wears her multitude of achievements easily. With a smile, she sits before a room of members from Dundee's Societay, all waiting to hear just how she did it.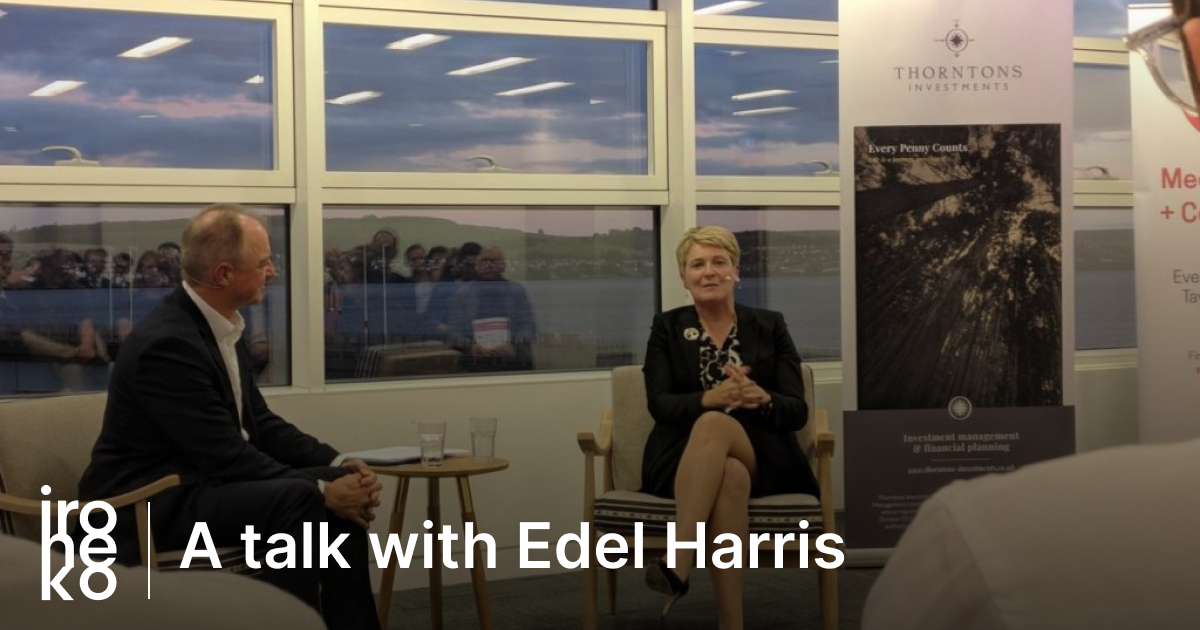 After growing up in an environment where university was 'just not on the agenda', and (despite her many projects to create social change) not considering herself an entrepreneur at all, in 2017 Harris was named Scottish EY Entrepreneur of the Year.
Harris is the CEO of Cornerstone, a Scottish charity that provides much needed support to disabled people and their families. Her work repeatedly challenges the system in a world where, as she states, 'austerity absolutely isn't over'. Edel Harris is an admired advocate for vulnerable people - a huge achievement - and Societay had the privilege of hearing how she got there.
A Defining Moment
Everyone who finally decides to chase after their goal can name a handful of "defining moments", or maybe just one. The moment when your desire to change or create something becomes too strong to sit idle. Harris names hers as the day she - during her time as a police officer - was reprimanded for sharing food on shift with some striking families.
Her job helped people, yes, but was too tightly bound by regulations that held her back from raising them from austerity in the way she wanted to. There is a respectful silence as she tells this story, as everyone in the room can surely remember a moment of frustration like this that somehow motivated them.
Both Harris and her interviewer, Dundonian entrepreneur Andy Lothian, emphasised the importance of changing existing systems, rather than simply finding ways to work within them. That's exactly what Harris did next.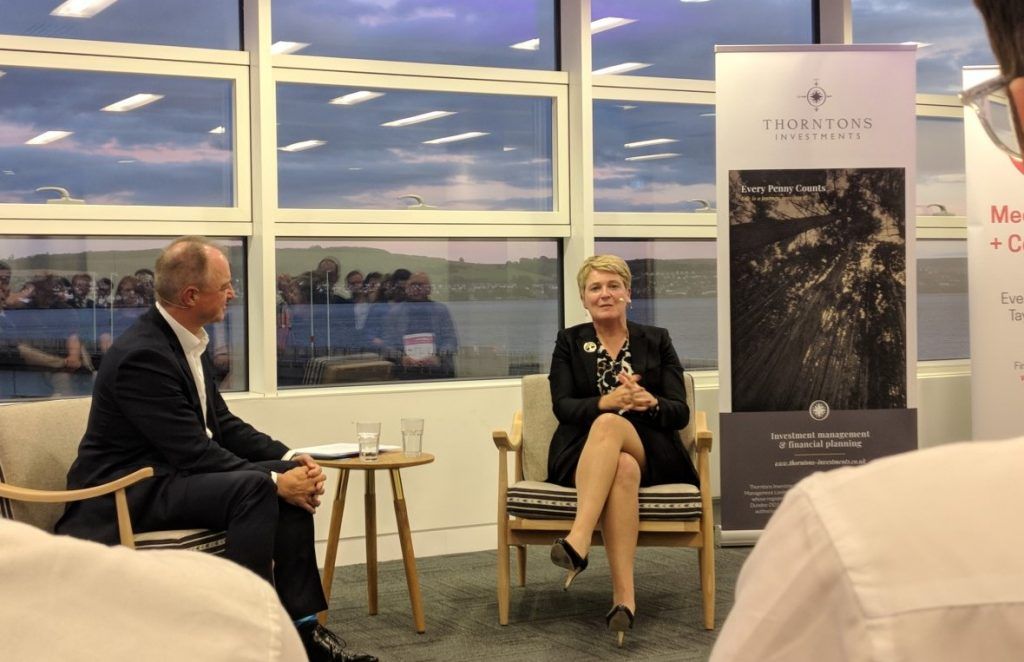 The talk was expertly lead by an enthusiastic Andy Lothian
The Tenacity to Change
We're often told to choose our definite path during adolescence, and that going to university straight after high school is the only way to do it. True to her continued challenging of expected norms, Harris suddenly changed career, taking a course in Health and Social Care with the Open University and leaving the police force entirely.
Thus began her new trajectory to truly making the difference she saw society needed. It's clear this is something Harris has now dedicated her life to, supported by a strong family and passionate colleagues.
Harris is an empathetic leader, emphasising a 'no blame culture' and empowering her colleagues. This seems to be her formula for success. But as she explains, bringing change wasn't always easy, especially in the beginning.
A New Method
Cornerstone has a team of seven coaches, rather than managers. This massive reworking of traditional business models prompted some scepticism at first, and inevitable contractual issues. This isn't because her approach is wrong - but because it's simply not the status quo.
Cornerstone's revolutionary "flat" structure means that employees are:
paid more
'more empowered'
recognised as equally important for the work that they do
Harris names this as one of the biggest 'challenges' she poses to the system. But the challenge, as she says, is worth it. She describes the experience of posing this idea (and indeed any challenging idea) as dancing alone on a hill. Again, anyone aspiring to achieve something they feel passionate about can surely relate to this idea.
At times, Harris admits, she thought: 'this is too hard'. She says this not with self-pity but with a frank smile. Of course it felt like that.
The diagram of the new business structure bemused her colleagues at first. Harris laughs as she remembers the reactions to her PowerPoint - it was not the reaction she'd been hoping for. But she had to persevere with the idea, because she believed in it.
And little by little, those who were unsure became comfortable, and then empowered, by the idea, and the naysayers' fears subsided. Harris describes her business now as a 'whole hill of dancing, passionate people'. This kind of work environment, clearly, is the ideal platform to create positive change.
Edel Harris' Valuable Wisdom
When asked to give advice to new charities and entrepreneurs, Harris said simply to lean in to the desire to make a difference, and to 'get up in front of people' to tell your story. This requires confidence of course, in your mission. And confidence beams from Harris, especially when talking about Cornerstone's achievements (such as Stepping Stones, a play service for disabled children).
Locally, Harris' projects are having a tremendous transformative effect. But she has something grander in mind too: to transform Social Care in the UK. She referred to this more than once as her 'big, hairy, audacious goal.' For the first time in the evening, a little bashfulness could be seen - but not too much. Indeed Edel's success and charisma come largely from the fact that she is not discouraged by the so-called audacity of her goal.
Ultimately, Harris' words left me with this impression:
That final goal, however important, is not in fact the primary thing that a creative, a businessperson or an entrepreneur should focus on. It's the smaller goals in between that are overarched by that ideal. Accept that your goal is big, that it's audacious, and work towards it. But in the mean time, empower yourself and the people around you to do what's possible here and now.
Crucially, challenge accepted structures along the way if you feel they need to be optimised or scrapped entirely. This will pave the way for others who believe in the same things you do.
Whether your goal is to transform the design world, transform the care sector, or to simply transform your own skill-set, Edel Harris' combination of compassion and tenacity are something every aspiring success story can look up to.